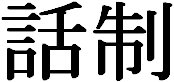 Wasei - Your next telephony system
Wa: Tale, talk
Sei: System
As telephony becomes more and more based on computer systems, possibilites emerge for integration with traditional information computer technology systems.
We acknowledge this development and we can now offer our software based telephony exchange, Wasei, with all the features your enterprise needs.
Using Wasei you can: place IP telephony calls, freely choose your provider, use an unlimited number of extensions, define speed dial plans, transfer calls, provide music on hold, host conference calls, use voice mail to not miss any calls, record current calls and manage it all through a web interface.
Wasei is based on
Asterisk
, a software telephony exchange which like our other systems is developed as open source software. For your organisation that translates to:
No license costs
Rapid development
Possibility to integrate telephony with your other computer systems